Colonel Davenport Historical Foundation
To preserve the Colonel Davenport House and site, and foster knowledge of the history and development of the Quad Cities region through tours of the house, exhibits, and educational programming.
Colonel Davenport's house is a circa 1833 structure and was considered a mansion of its time. The house is located on the north side of Arsenal Island in Rock Island, Illinois. To see a map, click here.
---
Pioneer Days – June 13-14
Pioneer Days is expanding to two days—Saturday and Sunday, June 13-14 from 10 a.m. to 5 p.m. on Saturday and 12-4 p.m. on Sunday. There is an overnight encampment of fur trader re-enactors, called a Buckskinners' Rendezvous, with pioneer portrayers and craft demonstrators such as quilting, basket making, lace making, rope making, campfire cooking, hatchet throwing, fishing, and musicians in period costume. Plan to spend the day on Arsenal Island on the Mississippi Riverbank, just like Colonel Davenport's family. Tours of the house included. $10.00 admission for 13 years and over; free 12 and under.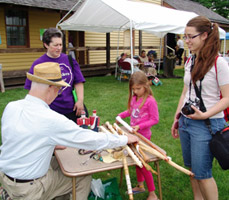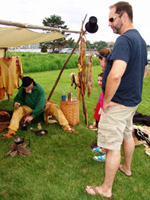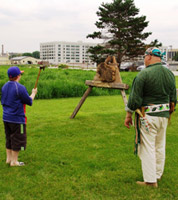 Click on the banner for more details
The Colonel Davenport House will be open extended hours during Quad Cities Museum Week - from 12-4 pm every day (except the Saturday of the Pioneer Days 10 am-5 pm).
Simply speaking, the Colonel Davenport Historical Foundation (CDHF) is dedicated to the preservation of the architectural and historical significance of the Davenport House. We are all volunteers who have an interest in not only preserving history but perpetuating it.
As a non-profit corporation, the foundation relies solely on grants and private donations. The upkeep of the house, and the continuance of the many programs and events scheduled throughout the year, depends heavily upon financial support.
Attractively priced memberships are available for: students, individuals, families, businesses and corporations.
Guided tours of the Davenport House are available May through October, Noon to 4:00 p.m., Thursdays through Sunday.
Volunteer opportunities are numerous. Whatever time a volunteer would like to share with our organization, would be very much appreciated. Being a member of our Board of Directors offers yet another unique opportunity to serve.
The Colonel Davenport Historical Foundation (CDHF) invites you, as a member, as a potential member, as a volunteer, to become part of history by getting involved, and involving others.
- Judy Tumbleson, President
Thursday - Sunday 12-4 pm
November-April:
House is open by appointment only. E-mail or call Ginny Bauersfeld, (309) 236-0741 .
Adults: $6
Seniors 65 and older: $4
12 yrs. and under and active military: Free
Special tour pricing is available. Click here for more information.
A photo I.D. is required of all persons entering Arsenal Island . Guests should enter through the main Moline gate located off River Drive in Moline, Illinois . Once on Arsenal Island, take Rodman Ave, a main East- West street to Hillman Avenue . The house is at the end and to the right of Hillman. To view a map, click here.
Additional Arsenal Island Attractions
After visiting the Colonel Davenport House, please visit these other Arsenal Island and Quad City Area Attractions all located in close proximity on the map .
The Mississippi River Visitor's Center at Lock and Dam #15
The Quad Cities Convention & Visitor's Bureau offers information about other area attractions.