Colonel Davenport Historical Foundation
Events
2018 Events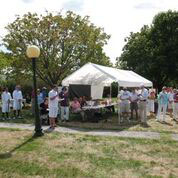 May 2 – Opening Day at the House
May 15 – History Book Club at the House at 7 p.m.
May 20 – Lunch & Program about Illinois QC Historical Markers
at the Butterworth Education Center
June 9-10 – Pioneer Days at the House
June 11-17
Quad Cities Museum Week www.qcmuseumweek.com
The Colonel Davenport House will be open every day June 11-17 from 12-4 p.m. for guided tours with Buy One Get One Free Admission.
July 17 at 7 p.m. Location TBD.
Book - "The Leon Bix Beiderbecke Story" by Phillip and Linda Evans
July 29 - Public Tours of Quarters One
September 18 at 7 p.m. Location TBD.
Book - "A Culinary History of Iowa" by Darcy Dougherty Maulsby
September 29 – Ghost Tales at the House
5:30 p.m. Tours start; 7 p.m. Ghost Stories Start
October 27 – End of regular season at the House
November 11 – Veteran's Day at the House
The Colonel Davenport House will be open on Veteran's Day from 2-4 p.m. Admission is $1.00 for adults/seniors. Kids 12 and younger and active and retired military are free. George Davenport served in the U.S. Army in the early 1800s to 1815. He came to this area as an Army supplier in 1816 to establish Ft. Armstrong.
November 20 at 7 p.m. Location TBD.
Book is "A Keelboat Journey during the Civil War" by Leslie Boothroyd
December 9 – Christmas Tea at Quarters One