Colonel Davenport Historical Foundation
Events
2017 Events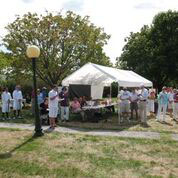 April 25 – Local History Book Club at the Deere-Wiman House 7 p.m.
May 3 – Opening Day at the House
May 21 – First People Who Made this Their Home; Lunch & Program at 1 p.m. at the Arsenal Golf Club

June 17 – Pioneer Day at the House
June 27 – History Book Club at the House at 7 p.m.
Book – The Autobiography of Black Hawk
July 30 - Public Tours of Quarters One

August 22 - History Book Club at 7 p.m.
Location – Hauberg Center, 1300 24th St., Rock Island, IL
Book - When the River Ran Backwards by Jay Feldman
September 30 – Ghost Tales at the House
5:30 p.m. Tours start; 7 p.m. Ghost Stories Start
October 24 – History Book Club at 7 p.m.
Location – Bucktown Center for the Arts, 225 E. 2nd St., Davenport, IA
Book – A Brief History of Bucktown by Jonathan Turner
October 28 – End of regular season at the House

November 11 – Veteran's Day at the House
The Colonel Davenport House will be open on Veteran's Day from 2-4 p.m.Admission is $1.00 for adults/seniors. Kids 12 and younger and active and retired military are free. George Davenport served in the U.S. Army in the early 1800s to 1815. He came to this area as an Army supplier in 1816 to establish Ft. Armstrong.
November 26 – Museum Store Sunday
The Colonel Davenport House joins other local museum gift shops for Museum Store Sunday. The Colonel Davenport House gift shop will be open from 12-4 p.m. for holiday shopping. The house will not be open for tours.
December 10 – Christmas Tea at Quarters One
Seatings at 12 pm and 3 pm